We've got some amazing customers here at SendGrid. I'm talking the likes of Uber, Spotify, eBay, Meetup, and Airbnb. You know these companies, and you know that they need very robust solutions that they can trust. SendGrid is one of those solutions, and having this knowledge gives future customers a lot more confidence in choosing us over our competitors.
This is especially important for our marketer persona; we call her Olivia. Because our Marketing Campaigns tool is still quite new, Olivia often has not heard much about us, because our name isn't yet being tossed around in her inner circles. As such, when she's researching our solution, she finds a lot of comfort in knowing that companies that she knows and loves have put their trust in SendGrid.
This became distinctly clear during a qualitative research project that I conducted in early 2017. I met with about five non-customers who fit the profile of Olivia, and I asked them to browse our website as if they were researching a new email service provider for their company. Three of the five of them quickly headed over to our case studies to get a sense for who was using us and if we were serving any companies that were like theirs. The problem was, our case studies were hard to navigate—if you didn't already know who the companies were, it was hard to get a sense for which ones were from what industry and who was using which of our three product offerings (email infrastructure, email marketing, and hands-on expert services). This made it difficult for our Olivias to get a sense for whether or not we would be a good fit for their company.
If they did manage to find a company they knew was similar to theirs, which a couple of the interviewees did, they were presented with a rather blasé case study that was difficult to ingest. The content was great, but it was presented in a way that wasn't engaging.
So, we added a filter to our case studies page to make it easier to find relevant stories. And we redesigned our case studies pages to bring in more imagery, colorful stat tiles, and vibrant customer quotes. Check it out: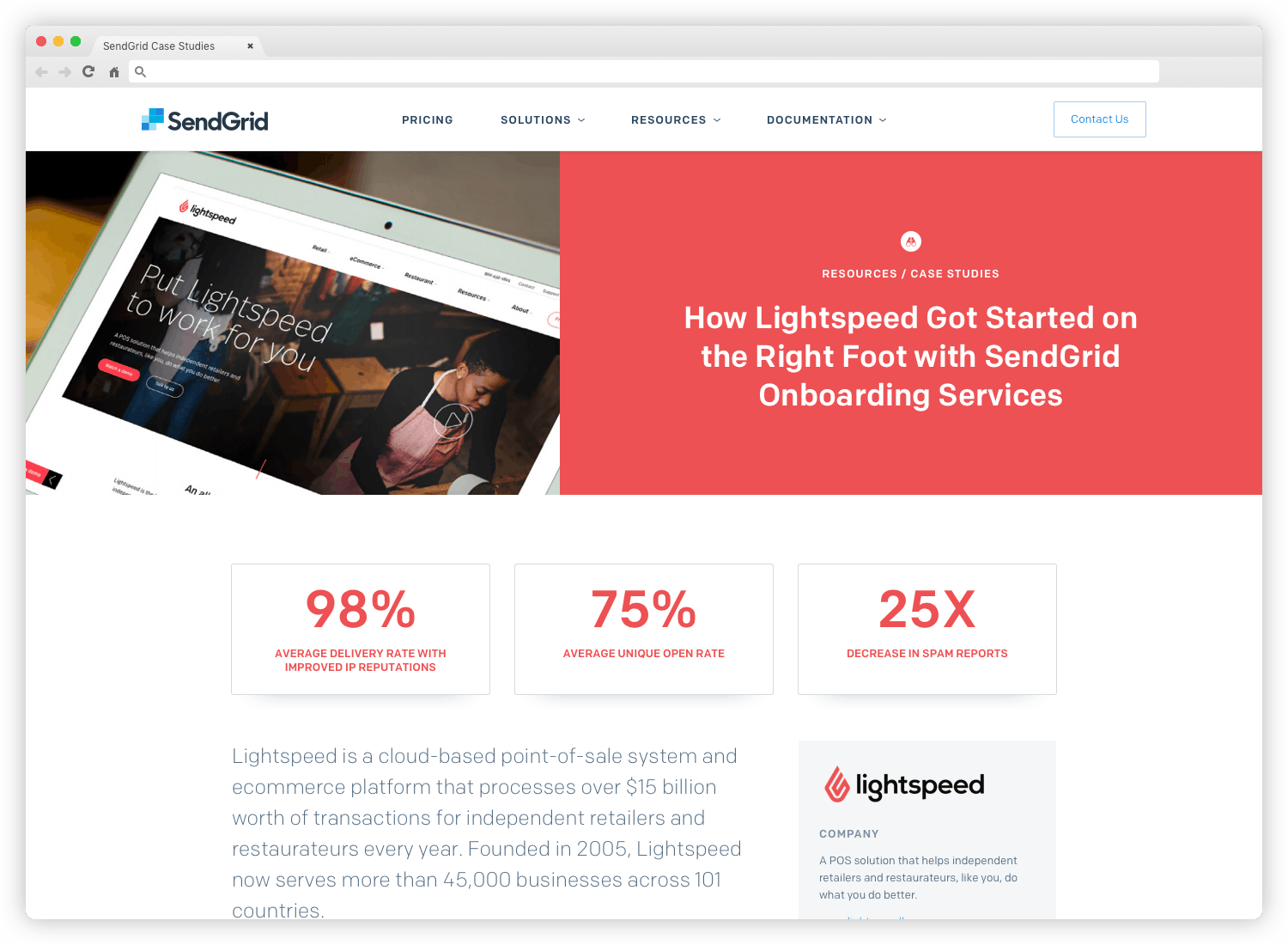 Another problem to overcome was that, while we have some huge brands like Pandora and Booking.com on our platform, we don't have case studies with many of them. We've got some logos sprinkled around the website here and there, but in general, we weren't shining much of a light on our awesome customers. To tackle this need, we've been working on a brand new Customers page for our marketing site. We want to drive a ton of people here; it's going in our main site navigation. We believe this page will hold a lot of value for potential customers during their research process in helping them see that SendGrid could be the perfect solution for them.
On our new Customers page, we will highlight some of our huge logos, toss around some stats that show the magnitude of our sending volume and customer base (over 50% of the world's email addresses have received an email sent through Sendgrid!), and provide an inventory of a big chunk of our user base. Here is the new page, that launched in October of 2017: